(16-8-0)
37
Rockford High School, Rockford, MI
Grand Haven overcomes shoes, Northview, to win Class A regional championship
Steve Kaminski | skaminsk@mlive.com, March 08, 2012 10:35 p.m.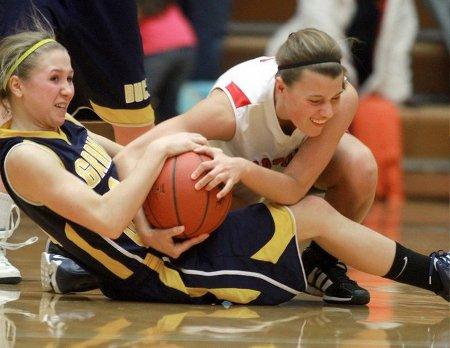 View full size
Grand Haven's Jordan Keefe, left, battles Northview's Allison Gilbert for control of the ball during Thursday's regional finals at Rockford High School. – (Jon M. Brouwer | MLIVE.COM)
ROCKFORD – Grand Haven's Shar'Rae Davis had plenty of reasons to smile Thursday night because her game-high 18 points sparked the Buccaneers to a 56-37 win over Northview in the Class A regional finals.
Strangely, her younger brother, Terrence Davis, was smiling more than anyone after the game, and who could blame him? Terrence Davis had to watch the game in his stocking feet, and he had finally got his sneakers back moments after the Bucs received their regional title trophy.
Here's why Terrance didn't have any shoes:
Grand Haven senior guard Jordan Keefe, who had six first-half steals, forgot to pack her shoes before heading to Rockford High School.
"I forgot my shoes at home," Keefe said. 'I called my parents, but they had already left."
So, junior Courtney Springer loaned Keefe her shoes, but what was Springer to do? Enter Terrence Davis, who gave up his shoes to Springer.
Related: View more photos from tonight's game
It all worked out perfectly because Keefe's fancy footwork enabled the Bucs pull away to a 28-14 halftime lead. The Wildcats opened the game with a delay offense in attempt to slow down the Bucs, but Keefe helped take Northiew out of its game plan. She finished with eight steals.
"Jordan Keefe put on a defensive clinic tonight, and I thought all of the girls got it done on the defensive end," Grand Haven coach Katie Kowalczyk-Fulmer said. "I wasn't happy that Jordan forgot her shoes, but after what she did, I said maybe she should forget them more often.
"She was huge. She did a great job defensively and really wore them out."
The win sends the No. 1 ranked Buccaneers into Wednesday's quarterfinal game at Lansing Eastern High School. Grand Haven (24-1) will take on East Lansing (21-4), with a trip to the Final Four on the line. East Lansing defeated East Kentwood 36-22 Thursday.
Abby Cole added 10 points for Grand Haven, while Keefe and Law finished with eight apiece.
But it was Grand Haven's defense that was the key. The Bucs were ready when Northview went to the delay.
"I wasn't expecting it, but we were prepared for it," Kowalczyk-Fulmer said. "It took us a minute to get into our 1-3-1 trapping, and once we did that, we got some steals. They couldn't hold it once we got a lead. It has happened to us in the past. We weren't expecting it tonight, but we have worked on it in the last week or so."
The win was the 20th straight for the Bucs, who haven't lost since Dec. 16 when they were beaten by East Kentwood.
Northview concluded its season with a 16-8 record. Junior Mackensie Crawford sparked the Wildcats with 16 points.